You visited France and enjoyed it ! but you were unable to found your very french house number plate !

Why don't you order as an unusual nice Christmas present a typical french house number sign or traditional french house number !!
We also make lots of funny signs for dogs o cats... custumized house name signs or french street signs.
Our factory produces nice genuine french enamel house number signs ! Come and vit our website, in english or in french.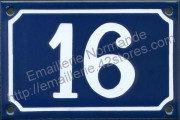 We are located in Normandy (France), 50km from the landing beaches of 1944...
You can order directly you genuine enamel steel number plate, we will make it to order and post it as you wish (simple or registered mail)
If you have a special number : 254A, 12-14, 4567, 5bis... Order it too !
Choose it traditional dark blue or ask for a green or a black background.
VISIT THIS LINK -chapter 5 on the left side-